Some of our work in the past year
As part of the "Neighborhood Struggle Against Evacuation" activity together with the residents of the neighborhood and other partnerships, we were able to reject the immediate eviction orders received by the residents and allow time for organization and evaluations. Among other things, we held demonstrations in the neighborhood, set up an outpost, lobbied MKs and ministers, and media activity; Incarceration and Rehabilitation community is establishing a new group of ex- incarcerated women, and recently held a fascinating and important series of meetings regarding various issues, such as Neve Tirza Women prison, trans imprisonment The Struggle for Public Housing and Shelter community is working together with the "Public Housing Forum" in leading the struggle for public housing as a universal solution and prevent.
In Breaking Walls, we believe that those who should lead the struggles and should speak to what is right for them and tell their own story are women themselves. Women who face the policies that hurt them daily. Therefore, as part of our activities, we hold an English course in partnership with "This is not an Ulpan", which includes storytelling learning. The course is taught by women who are social activists so they will be able to tell their own stories in English and no one will speak on their behalf. The first class has ended, and we are preparing for a second.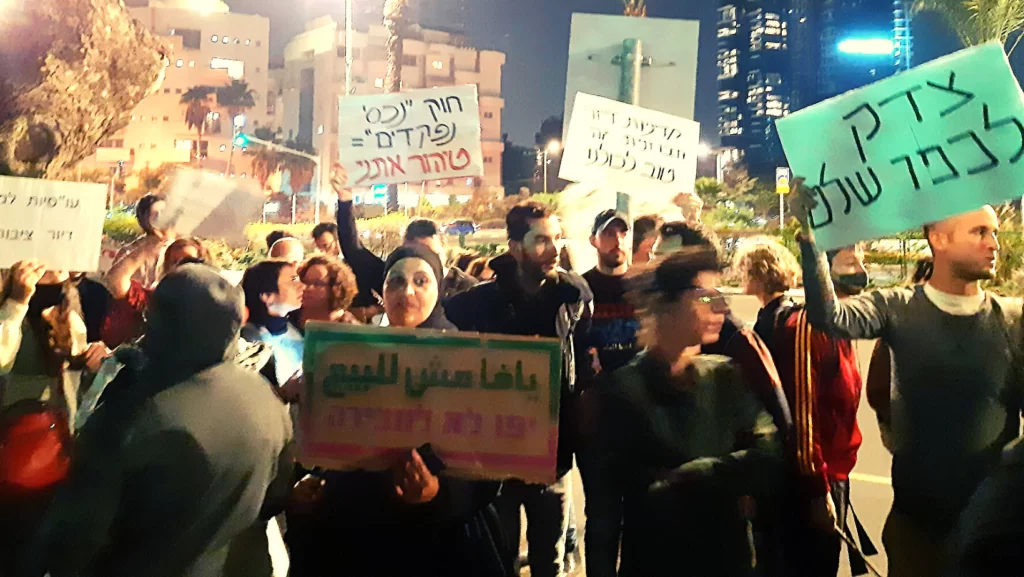 Along with working to change policies, we also act to provide individual assistance to men and women living in poverty and dealing with economic and bureaucratic crises. We believe that women's immediate distress and the current challenges they face should be considered; we collaborated with Culture of Solidarity movement in demonstration in front of Minister of Interior Deri to provide vouchers as means to cope with the Covid crisis, and we led a campaign on the importance of providing financial security even at war, during operation "Guardian of the Walls".
We act to prevent sexual and gender-based violence; this community is currently leading two major projects:
#mentoo Campaign, following the tragedy of the late Yonatan Halo, to raise awareness of the issue of sexual abuse against men. In addition, we provide ongoing support and assistance in situations of distress and emergency to women affected by violence who seek support to leave an abusive household or in need of immediate protection.